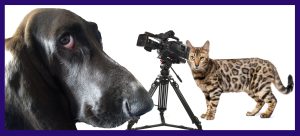 April 11 & April 12 (4:00-5:00pm)
Room 189 (to the left of the Library)
The same workshop is being offered on both days.
A 60 minute workshop that focuses upon in-studio camera work. You will be introduced to the basics of standard video recording in the Digital Media Production Center's studio, using a Panasonic over-the-shoulder camera and a Canon C200 camera. This is an introduction to video concepts: mise-en-scène, framing, lighting, sound, and performance for the camera.
Space is limited, so please complete the below form. You will receive an email confirmation that you are registered within 48 hours.