Human Trafficking
by Amber Fry and Polly Batchelder
What to Look for in Human Trafficking
People are going missing every day and the numbers in Ohio keep rising. According to the National Human Trafficking Hotline, there have been 450 cases of human trafficking last year. That has gone up from 444 cases in 2018, and 377 cases in 2017. (These just reports from this Hotline only.)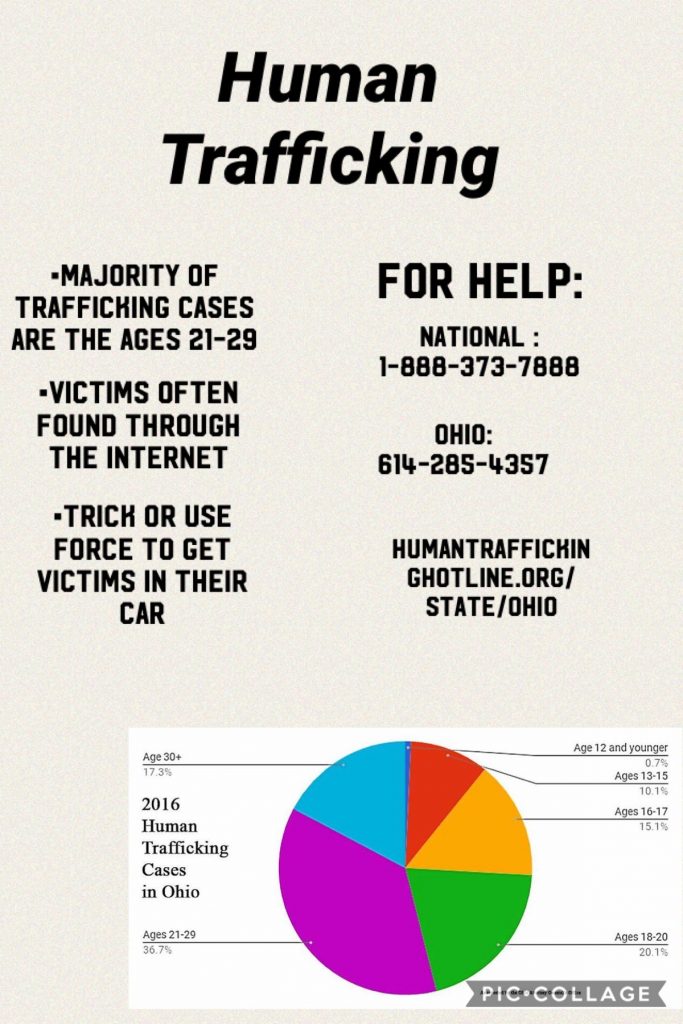 So when dealing with human trafficking, what do you look for? There are many different warning signs, and things to be cautious about. One way they find victims is through social media. The way human traffickers use social media is by friending you, and gaining your trust. This goes until you trust them enough to meet up with them. It is not a good idea to meet up with someone you do not know, and if you do bring a friend with you for the first time.
Human traffickers are also putting up job opportunities in hopes to find victims in search of a job. They post jobs that look phenomenal. The job will usually have high pay for simple work, or have job interviews with complete strangers. Often, they send out invitations for you to attend an interview when you have not even applied for the job. The most common thing human traffickers look for are people who are vulnerable. They look for things like people who have financial hardships, low self-esteem, or family problems. They present themselves as friends, future employers, or even possible future partners. These are only some of the many possible ways human traffickers pick their victims, and the tactics they use for kidnapping.
Human Trafficking in the State of Ohio
The state of Ohio has many organizations that help with these cases of human trafficking. In Ohio, we have hotlines, a human trafficking task force, organizations that help raise awareness, and many others that help victims as well as potential victims. This is because Ohio is ranked 14th out of the 50 states in human trafficking.
Data collected from the Ohio Network of Children's Advocacy, Child Welfare (SACWIS), the State Refugee Coordinator, the Ohio Attorney General, and the HHS Grant Partnership by the Ohio Human Trafficking Task Force states that from the year 2014-2018  almost 1,371 cases of human trafficking. This data focuses on many targets that include minors, the general public, refugees, and foreign victims.
In the year 2020, 177 arrests have been made in the state of Ohio in relation to human trafficking. 109 human trafficking victims have been rescued due to these arrests. Most of the arrests were made in Cleveland, Toledo, and Columbus. This mission has been labeled Operation Autumn Hope and it was during this operation that the U.S Marshall was able to clear 76 missing and exploited children as well as being able to return 56 of these children.
Sources:
http://www.bethejam.org/tactics
https://humantrafficking.ohio.gov/data-reports.html
https://www.traffickinginstitute.org/wp-content/uploads/2020/09/Ohio-2019-State-Summary.pdf
https://www.cincinnati.com/story/news/2020/10/26/177-arrested-largest-human-trafficking-sting-ohio-history/6041197002/